Nowruz is known as the Persian New Year celebration which begins on the spring equinox, the first month of the Iranian solar calendar.
The Haft-Sin table is an important part of Nowruz celebrations. This table is carefully set up with items, some of which will be shared with family and friends on the holiday.
A special cloth called a sofreh  is first placed on the table.
There are seven traditional (food) items that are arranged on it, including wheat, lentils or barley, flowers, dried fruit, garlic, apples and vinegar. Each item is a symbol of spring and renewal.
Live goldfish symbolizing new life are sometimes included on the table. Other items include eggs for fertility, coins for prosperity and a mirror for reflection.
This year, Middle Eastern Cultural Programs has collaborated with Iranian Cultural Organization and student association of Uconn to hold a Nowruz celebration at room#330-331, Student Union from 7:00 pm-10:00 pm. Due to the current COVID-19 restrictions in place, those interested in attending this event must register electronically through a link.
https://www.eventbrite.com/e/nowruz-event-2022-uconn-tickets-262139826277
We have invited live Persian musicians and a singer as well as Persian dance group and DJ. We will also be serving Persian traditional food for our guests.
COVID_19 regulations, such as wearing a mask and social distancing, must be followed at all times during the event.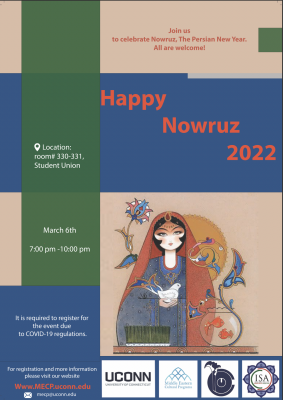 ---