In our mission to foster long-lasting connections at the University of Connecticut, the Middle Eastern Cultural Programs (MECP) are proud to launch three distinct mentorship programs. The MECP Peer-to-Peer Mentorship Program seeks to connect Middle Eastern students with one another, allowing younger students to receive guidance and support from older students who share many of their experiences. The MECP Husky Mentor Program focuses on professional and academic development of Middle Eastern students, connecting students with faculty, staff, and alumni who share their professional interests. The MECP Cultural Ambassadors Program seeks to foster connections between the Middle Eastern community and the broader university community, bridging cultural divides and encouraging the development of fruitful relationships. Each of these programs is open to all students at the University of Connecticut, both undergraduate and graduate.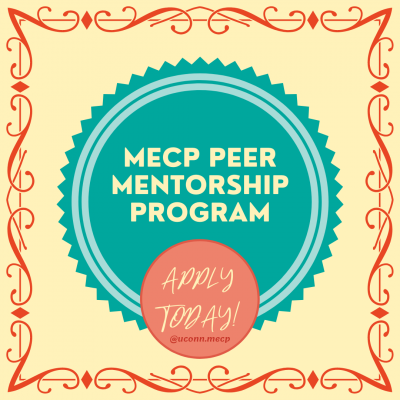 MECP Peer Mentorship Program
The MECP Peer-to-Peer Mentorship Program fosters friendships between Middle Eastern students at UConn, pairing newer students with peers who can offer advice based on shared cultural and academic experiences. If you are interested in participating in the program, click here to apply today. Students will be paired based on shared interests and objectives.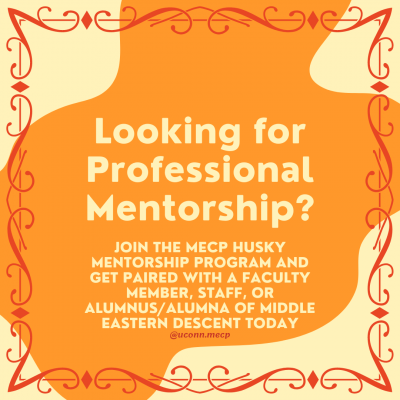 MECP Husky Mentor Program
The MECP Husky Mentor Program encourages professional development and support of Middle Eastern students at UConn by pairing students with Middle Eastern faculty, staff, and alumni who share their professional and academic interests. These mentors play an important role in helping students successfully reflect on and solidify their aspirations as current and future leaders, guiding them to navigate their career plans.
Mentors will meet and correspond with their mentee, helping them navigate, integrate, and synthesize their unique cultural experiences, academic work, cocurricular activities, and community involvement to make a lasting impression on the campus and its students. The specific ways in which Mentors help, guide, and interact with their mentees will vary depending on the experiences, resources, needs and relationship developed between the pair. Similarly, the specific relationship between students and their MECP Husky Mentor will be determined individually by each pair. However, mentors and mentees will be invited and encouraged to attend MECP events together throughout the academic year. Click here to join the program.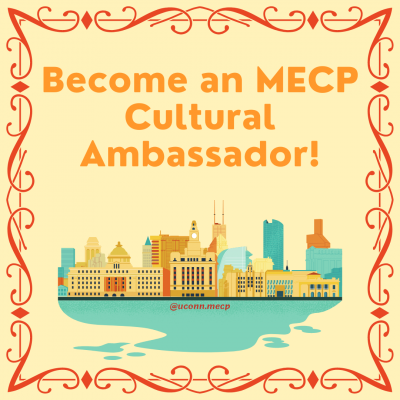 MECP Cultural Ambassadors Program
The MECP's Cultural Ambassador Program seeks to foster cultural exchange at UConn by pairing Middle Eastern international students with US-born students. Ambassadors participate in cross-cultural mentoring that involves an ongoing, intentional, and mutually enriching relationship with someone of a different nationality, working together with other Ambassadors to organize events that highlight aspects of their respective culture and everyday experience. To become an MECP Cultural Ambassador, click here.
Interested? Apply today!
Applications for our mentorship programs are accepted on a rolling basis. For more information, please contact us at mecp@uconn.edu.